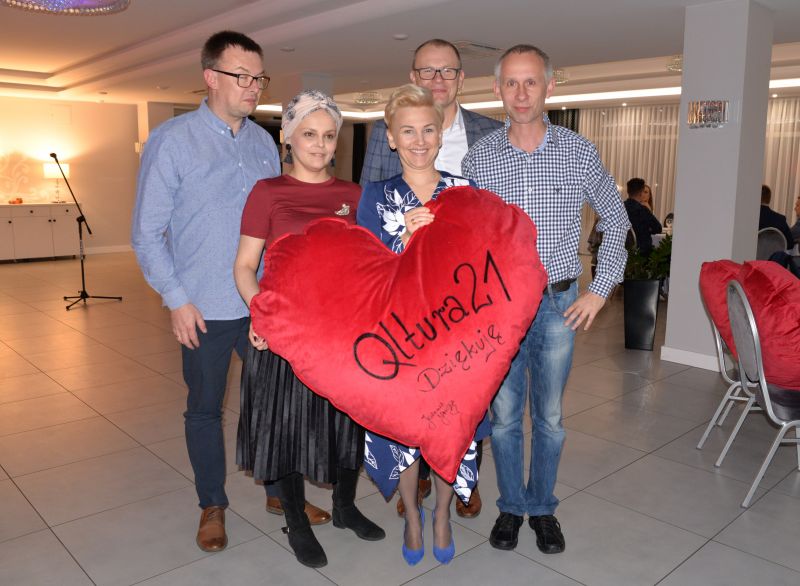 Stowarzyszenie Qltura 21 zorganizowało kolację charytatywną dla Asi, mamy dwójki dzieci, która walczy z nowotworem piersi. Kolacja odbyła się w hotelowej restauracji Podjadek w Górznie.
Uroczysta kolacja odbyła się 14 listopada w restauracji Podjadek, która była również częściowym sponsorem. Impreza rozpoczęła się znakomitym występem sióstr Igi i Agaty Kasprzak, które uraczyły gości swoim talentem muzycznym. Podczas wydarzenia, zebrani goście mogli przekazać datki na leczenie Asi, która na co dzień zmaga się z nowotworem. Dzięki hojności przybyłych zebrano blisko 8 tys. zł.

Joanna jest żoną oraz mamą dwóch wspaniałych chłopców w wieku 15 miesięcy oraz 5 lat. W maju tego roku jej życie stanęło w miejscu. Z pozoru mały guzek, którego wyczuła w piersi okazał się nowotworem złośliwym – inwazyjny rak G3 piersi lewej z przerzutami do węzłów chłonnych. Guza wykryła sobie sama podczas kąpieli. Asia postanowiła działać natychmiast, umówiła się na USG, po którym już wiedziała, że zmiana wygląda niepokojąco i musi być wykonana biopsja. Kilka dni później kolejne USG, biopsja, mammografia – wszystkie te badania niestety potwierdziły diagnozę. Dotychczas poukładany świt Asi stanął w miejscu.

Leczenie należało rozpocząć natychmiast. Przeciwnik był bardzo silny, komórki nowotworowe dzieliły się bardzo szybko, dlatego też należało go agresywnie zaatakować.
Niestety w międzyczasie, podczas badań przed podaniem pierwszej dawki chemii okazało się, że Asia ma arytmię. Była ona przeciwwskazaniem do rozpoczęcia leczenia. Kolejny szok. Joanna musiała przejść zabieg ablacji, który polegał na wprowadzeniu elektrody poprzez żyłę udową do miejsca będącego częścią obwodu częstoskurczu w mięśniu sercowym. Na szczęście zabiegł przebiegł pomyślnie i po tygodniu przyjęła pierwszą dawkę chemii.
Obecnie jestem po 13 cyklach inwazyjnych chemii, przede mną jeszcze 3. Utrata włosów, zmiana w wyglądzie, niewyobrażalne zmęczenie oraz ogromne obciążenie psychiczne – to tylko niektóre skutki leczenia. Jednak najgorsze dla mnie jako matki jest smutek w oczach moich chłopców, kiedy to nie jestem w stanie wstać z łóżka….
Kolejnym etapem po chemioterapii będzie operacja… - mówi Asia.
I to właśnie na tę kosztowną operację potrzebne są fundusze. To szansa dla Aśki. Umożliwi jej szybki powrót do normalnego życia, pozwoli, że poczuję się znów sobą, poczuję się kobietą, ale przede wszystkim pozwoli na sprawowanie opieki nad dziećmi.
POMÓŻMY!!!
Ostatnio zmienianypiątek, 15 listopad 2019 10:44
Najnowsze od iGOinfo
Powrót na górę