Dar natury - sok z brzozy!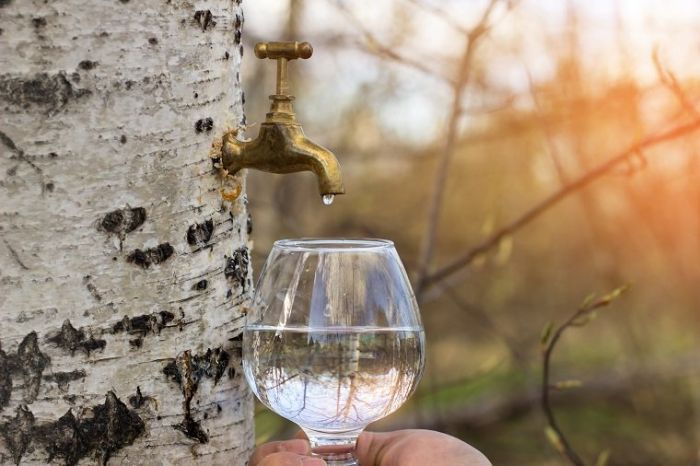 Często nawet nie zdajemy sobie sprawy, ile wspaniałych rzeczy daje nam Matka Natura zupełnie za darmo! Jednym z tych darów jest sok z brzozy, zwany inaczej oskołą lub bzowiną.
Smakuje jak lekko słodka woda, lecz zawiera prawdziwą skarbnicę cennych witamin i minerałów - łatwo przyswajalną witaminę C, flawonoidy, taniny, a także wapń, fosfor, potas, żelazo, magnez, miedź, witaminy z grupy B oraz garbniki.
Te składniki sprawiają że sok z brzozy wzmacnia naszą osłabioną (choćby przez braki ''słonecznej witaminy'' D3) odporność, co przecież jest niezwykle ważne w okresie nieustannie atakujących nas infekcji. Ale to rzecz jasna nie wszystko! Sok z brzozy oczyszcza organizm z toksyn, wypłukuje piasek z przewodu moczowego dzięki działaniu diuretycznemu, zapobiegając kamicy nerkowej i tym samym - okropnemu bólowi z nią związanemu. Wspomaga pracę nerek, łagodzi podrażnienia jelit i wrzody żołądka. Przyśpiesza proces gojenia się ran. Ba! Pomaga nawet w walce z anemią, a to za sprawą wysokiej zawartości żelaza!
Dzięki zawartości betuliny uwrażliwiającej na działanie insuliny chroni przed insulinoopornością, miażdżycą, chorobom serca i rzecz jasna - cukrzycą!
Podpowiem jeszcze że doskonałe efekty daje połączenie soku z brzozy z sokiem z młodej pokrzywy. Należy wcierać go w czystą głowę tak często jak się da. Włosy będą bujne, puszyste i będą mniej wypadać!
Sok z brzozy pozyskuje się w okolicach rozpoczęcia wiosny, nim zaczną pojawiać się liście (gdy pojawią się liście, soku będzie wówczas mniej lub wcale!). Sok w brzozie zaczyna krążyć, dopiero gdy przez kilka dni temperatura osiąga 10 - 15 stopni. Kiedyś tradycyjnie nawiercało się te drzewa w dzień Wielkiej Nocy. Tym podobne tradycje były popularne w Środkowej i Wschodniej Europie, a także krajach skandynawskich.
Jak pozyskać brzozowy sok? Otóż należy wybrać miejsce wolne od zanieczyszczeń i z daleka od dróg. Pień powinien być odpowiednio gruby, co najmniej męskiej nogi. Brzoza powinna mieć co najmniej 10 lat. Następnie, na wysokości około 50 - 60 cm należy nawiercić kilkucentymetrowy otwór wiertarką, lub naciąć siekierą, gdy jest naturalnie pochylona. Następnie należy włożyć w dany otwór plastikową rurkę, przywiesić pod nią duży słój, wiadro lub butelkę i pozostawić naczynie na noc. Przez dobę można uzyskać od 1,5 do nawet 2 litrów świeżego soku! Wspaniale!
Po wszystkim lepiej zabić otwór drewnianym kołkiem lub posmarować go pastą ogrodniczą do leczenia uszkodzeń drzew. Po co drzewo ma niepotrzebnie cierpieć?
Rzucę tu małą ciekawostką - w dawnych czasach gdy pozyskało się sok z jakiegoś drzewa, należało mu się pokłonić, by okazać szacunek naturze i podziękować że drzewo dało tej osobie coś od siebie, swoją energię.
Muszę jednak ostrzec że soku z brzozy się ani nie filtruje, ani nie gotuje, ani też nie podgrzewa. Można go przechowywać maksymalnie przez 4 dni, nie więcej. W stanach chorobowych pić 3 razy dziennie, przez co najmniej 2 - 3 tygodnie, by efekt stał się widoczny.
Wiecie już jak należy pozyskiwać i stosować ten cenny płyn! Nie ma więc na co czekać! Wsiadajcie na rowery i ruszajcie do lasu! Matka Natura nie weźmie za to żadnej opłaty!
Smacznego!
Marek Michalak
foto: fotolia.com
Najnowsze od iGOinfo
Powrót na górę