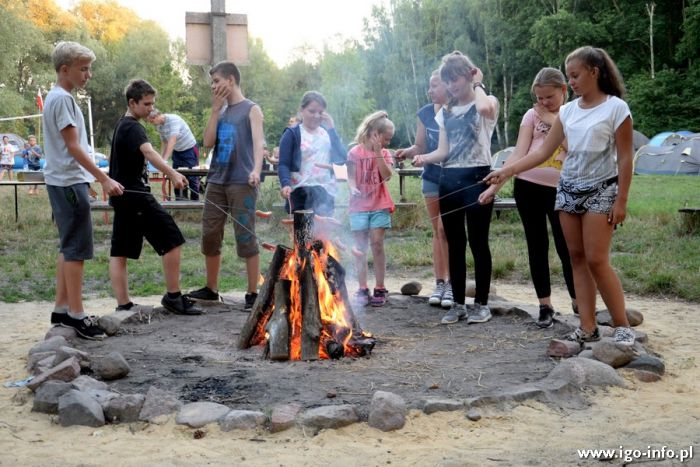 Obóz na Piaskach
W trakcie trzech turnusów w lipcu 85 dzieci z gminy Ostrów Wlkp. brało udział w obozie namiotowym na Stanicy Harcerskiej na Piaskach – Szczygliczce w Ostrowie Wielkopolskim. Park linowy, podchody, zajęcia z rzeźbiarstwa, ceramiki, budowa totemu i zajęcia sportowe były najważniejszymi elementami wypoczynku.
To już kolejny rok, kiedy Uczniowski Klub Sportowy "Tęcza" z Lamek wspólnie z Gminą Komisją Rozwiązywania Problemów Alkoholowych w naszej gminie realizuje wypoczynek dla dzieci i młodzieży mieszkających w gminie Ostrów Wlkp.
– Realizujemy zadanie pt." Zielona Polana miejsce wspomnień 2015", jest to obóz pod namiotami, który odbywa się w trzech turnusach, pomiędzy 15-29 lipca bierze w nich udział 85 dzieci z terenu gminy Ostrów Wlkp., Gmina dofinansowała projekt w kwocie 18500 zł. poprzez Gminną Komisję Rozwiązywania Problemów Alkoholowych, cały projekt zadania wynosi ok. 25 000 zł. Turnusy są 5 dniowe, nabór przeprowadzony był poprzez dyrektorów szkół. Głównymi atrakcjami są zajęcia plastyczne, sportowe, program profilaktyczny, ognisko, dyskoteka, park linowy, podchody, zabawy na orliku. Posiłki dostarcza firma Ejo&Pati Karolina Michalak z Gorzyc Wielkich. Posiadamy stałą opiekę medyczną, którą pełni ratownik medyczny Ireneusz Paszek. W tym roku w sierpniu będziemy realizować jeszcze wspólnie z Gminą Ostrów Wlkp. półkolonie, w których będzie brało udział 392 uczniów – powiedział Tomasz Mocek organizator i koordynator wypoczynku.
Ważnym elementem obozu są zajęcia plastyczne, prowadzone przez jednego z najlepszych nauczycieli tego przedmiotu, a zarazem artystę – malarza Jerzego Wiśniewskiego, który powiedział – Zawsze na tego typu obozach wybieramy te dziedziny plastyki, które trudno realizować na zajęciach w szkole. Pracujemy z gliną ceramiczną, bez wypalania, ponieważ nie mamy pieca, robimy rzeźby z gipsu. Najczęściej, jako że w szkole w Lamkach zgromadziłem warsztat sprzyjający rozwijaniu grafik i linorytu to najwięcej spotkań poświęcamy na te techniki, ponieważ nie wszyscy mają do czynienia z tymi formami sztuki w szkołach. Chciałem w tym roku zaproponować coś nowego, dlatego pokazuję starą indiańską metodę budowy totemu, czyli znaku plastycznego całej grupy namiotowej, gdzie uczestnicy mają podkreślić w formie plastycznej swą inność. Chcemy wybudować własny totem, a osobowości mają zaistnieć na tym totemie, tym co zrobią np. odciskami dłoni, elementami z gliny i innymi znaleziskami, które znajdą w czasie obozu.
Organizatorzy zadbali również o kondycję obozowiczów. Zajęcia związane są z codzienną akcją ruchową dzieci koncentrującą się na grach zespołowych i terenowych, marszobiegach i spacerach po okolicy. Zajęcia odbywają się codziennie, naprzemiennie zajęcia sportowe i zajęcia plastyczne – powiedział instruktor Jakub Mróz.
Obóz zakończył się ogniskiem z kiełbaskami, który był podsumowaniem świetnie spędzonych wakacji.
DarP./ fot. Mnich
udostępnij
Ostatnio zmienianyponiedziałek, 27 lipiec 2015 09:20
Artykuły powiązane
Najnowsze od iGOinfo
Powrót na górę