Inwestycyjny boom oświatowy w Gminie Ostrów Wielkopolski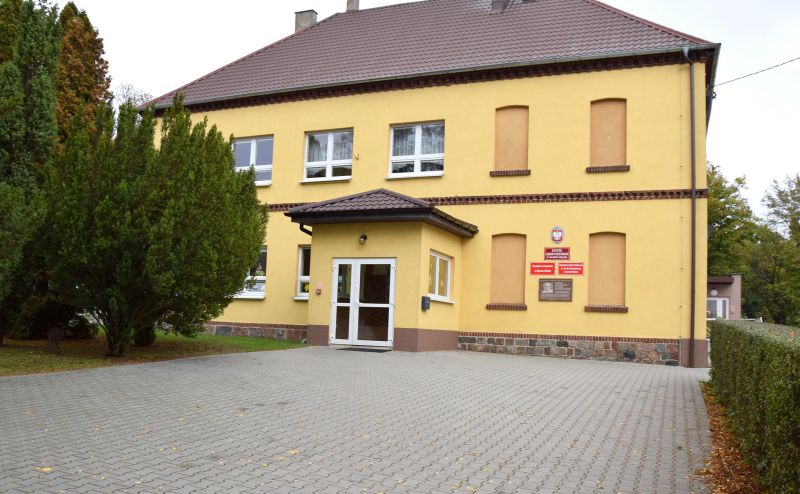 Szkoła w Wysocku Wielkim to kolejna placówka, która zostanie rozbudowana. Umowę w tej sprawie już podpisano.
Pierwsze prace ruszą jeszcze w tym roku i potrwają do końca lipca 2020 roku. Inwestycja kosztować będzie ponad 1 mln 600 tys. złotych. Pieniądze w całości pochodzą z budżetu gminy. W ramach rozbudowany, szkoła zyska dodatkowe dwie sale lekcyjne, przestronną salę przedszkolną z zapleczem oraz pomieszczenia gospodarcze. Jak ważne jest to inwestycja dla szkoły, tłumaczy Alicja Wawrzyniak dyrektor Zespołu Szkolno – Przedszkolnego w Wysocku Wielkim.
- W tej chwili mamy szkołę 8-klasową. Placówka była przewidziana na 6 klas, więc po prostu zaczyna nam brakować sal. Po sąsiedzku, w pomieszczeniach kościelnych dzieci mają religię, gdyby nie życzliwość księdza naprawdę byłoby nam bardzo ciężko. Brakuje nam pomieszczeń gospodarczych, dla obsługi, archiwum, gabinetu dla logopedy, nie mamy też biblioteki. Zatem dzisiejsze podpisanie umowy w urzędzie to dla nas niezwykle ważny dzień. Jesteśmy ogromnie wdzięczni wójtowi za tę decyzję, dzięki której warunki w szkole bardzo się poprawią. - mówi Alicja Wawrzyniak. Nowa część powstanie od strony południowej. Całość będzie ze sobą współgrać. Budynek będzie piętrowy. Na parterze znajdzie się sala przedszkolna wraz z zapleczem, na piętrze pozostałe pomieszczenia wraz z dwiema salami lekcyjnymi.
- Przy inwestycjach, które są łączone z obiektami w trakcie używania, zawsze występują logistyczne trudności, ale jesteśmy dobrej myśli. To nie pierwsza tego typu rozbudowa, którą realizujemy dlatego myślę, że i tu sprostamy oczekiwaniom inwestora. – mówi Mirosława Zwierz, wykonawca inwestycji.
Szkoła w Wysocku Wielkim od 2012 roku jest placówką niepubliczną, prowadzoną przez lokalne stowarzyszenie. Organizacja świetnie sobie radzi z prowadzeniem i zarządzaniem. Szczególnie przedszkole cieszy się ogromną popularnością. Szkoła z kolei, swoim uczniom oferuje wiele ciekawych zajęć dodatkowych.
- Nie zwalniamy tempa. To kolejny obiekt, który wpieramy finansowo i to na bardzo dużą skalę. Koszt inwestycji to ponad 1 mln 600 tysięcy złotych. Spodziewamy się, że podczas rozbudowy mogą powstać różne trudności ze względu na konieczność funkcjonowania szkoły i przedszkola w trakcie budowy. – tłumaczy Antoni Hadryś, z-ca wójta Gminy Ostrów Wielkopolski.
Od nowego roku szkolnego w Zespole Szkolno – Przedszkolnym w Wysocku Wielkim uczy się 64 dzieci, w przedszkolu kolejnych 100. Warto podkreślić, że choć szkoła w Wysocku Wielkim jest niepubliczna, to samorząd Gminy Ostrów Wielkopolski wspiera finansowo tego typu obiekty, choćby przez regularne remonty. Dlaczego? Zdaniem Antoniego Hadrysia, z-cy wójta Gminy Ostrów Wielkopolski placówki oświatowe, szczególnie w małych miejscowościach mają duże znaczenie dla mieszkańców.
- Każda szkoła ma swoją historię, tradycję, to w niej tętni życie kulturalne, sportowe, artystyczne. Jeśli tylko to możliwe wspieramy ich rozwój. Cieszymy się z każdego sukcesu ucznia, nauczyciela, szkoły, bez względu czy jest to szkoła publiczna czy prowadzona przez stowarzyszenie. – podkreśla Antoni Hadryś, z-ca wójta Gminy Ostrów Wielkopolski.
Podczas podpisania umowy obecni byli: z-ca wójta Antoni Hadryś, skarbnik gminy Barbara Jurek, przewodniczący rady Piotr Śniegowski oraz przedstawiciele wykonawcy.
Tylko w ciągu dwóch ostatnich lat gmina rozbudowała: publiczne przedszkole w Daniszynie (2018), szkołę niepubliczną w Łąkocinach (2019), placówkę niepubliczną w Słaborowicach (2018), trwał remont w szkole niepublicznej we Franklinowie (2018 i 2019), wybudowano nowe przedszkole we Wtórku (2019), a trzy lata wcześniej (2016) w Gorzycach Wielkich. Termomodernizację ze wsparciem unijnym przeszły szkoły publiczne w Lamkach i Szczurach (2019). Ruszyła budowa nowego przedszkola w Topoli Małej (październik 2019), wymieniono dach w szkole podstawowej w Gorzycach Wielkich (2019).
Najnowsze od iGOinfo
Powrót na górę