Uroczystość 70-lecia Szkoły Podstawowej im. Józefa Lipskiego w Szczurach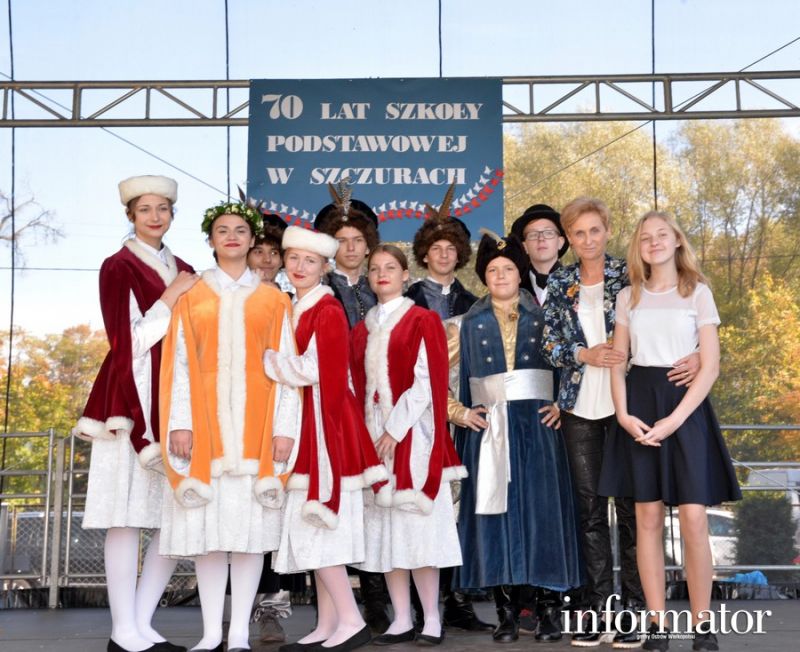 Jubileusz szkoły to niepowtarzalna okazja do wspomnienia minionych wydarzeń i ludzi, którzy tworzyli wielopokoleniową tradycję placówki. 18 października 2019r. na trwałe zapisze się na kartach historii Szkoły Podstawowej w Szczurach jako dzień wyjątkowy. 70 lat temu w adaptowanym na szkołę pałacu Lipskich rozpoczęła się edukacja społeczności szkolnej.

Na placu w pięknym jesiennym parku zgromadzili się zaproszeni goście: Piotr Kuroszczyk - wójt gminy Ostrów Wielkopolski, Antoni Hadryś – zastępca wójta, Barbara Jurek – skarbnik gminy, radni gminy Ostrów Wielkopolski, radni powiatowi, Tomasz Ławniczak – poseł na Sejm, sołtysi wsi, Tomasz Tomalak - Kuratorium Oświaty w Kaliszu, dyrektorzy szkół i przedszkoli w gminie Ostrów Wielkopolski, ks. prałat Krzysztof Rutkowski – proboszcz parafii Szczury, wykonawcy inwestycji, kierownicy robót, przedstawiciele branży budowlanej, byli i obecni nauczyciele i pracownicy administracji i obsługi, absolwenci, rodzice, uczniowie szkoły. Karol Hoffman – dyrektor szkoły rozpoczął oficjalną część obchodów. W swoim przemówieniu nawiązał do zmian, jakie na przestrzeni lat zostały przeprowadzone w budynku szkoły. - Od kilku lat szkoła jest systematycznie modernizowana i odnawiana. Wymieniono dach, ocieplono budynek i zrobiono elewację zewnętrzną. Poszczególne sale i pomieszczenia nabierają nowego blasku, zyskują na estetyce i wyposażeniu, podnosząc poziom jakości pracy dydaktyczno - wychowawczej i opiekuńczej. Przy dźwiękach werbli wprowadzono sztandar szkoły. Program artystyczny przygotowany przez uczniów i nauczycieli rozpoczął się odtańczeniem jednego z najstarszych tańców polskich – poloneza. Uczniowie ubrani w piękne stroje po staropolsku przywitali gości. Jako przedstawiciele dostojnej Jubilatki rozpoczęli podróż pomiędzy przeszłością – a teraźniejszością. Uroczystość 70 – lecia szkoły łączy się z 10 rocznicą nadania szkole imienia znakomitego i zasłużonego dla Polski patrioty – Józefa Lipskiego. Jego pamięć uczczono minutą ciszy, a przedstawiciele uczniów zapalili przy obelisku "światełko pamięci". Jakub Mazurek – laureat Wojewódzkiego Konkursu Krasomówczego przedstawił losy braci Lipskich. Zebrani mogli wysłuchać pięknie recytowanych utworów Adama Mickiewicza czy Juliusza Słowackiego. Bowiem umiłowanie ojczystego kraju i patriotyzm to wartości, którymi kierują się dzieci i młodzież z podstawówki w Szczurach. 70 lat to spory odcinek czasu. Społeczność uczniowska przygotowała prezentację multimedialną "Wczoraj i dziś". Mogliśmy zobaczyć barwne zmiany, jakie zaszły w tym czasie w szkole. U absolwentów szkoły wspomnienia z dawnych lat wywoływały wzruszenie, tworzyły niepowtarzalny klimat powrotu do przeszłości. Wśród wspomnień, ogromnego wymiaru nabrały słowa piosenki Zbigniewa Wodeckiego "Lubię wracać…", wykonanej przez jedną z uczennic.
Lubię wracać w strony, które znam,
Po wspomnienia zostawione tam,
By się przejrzeć w nich, odnaleźć w nich…
W rozmowach z młodzieżą można było usłyszeć, że są dumni z tego, że są uczniami właśnie tej szkoły. Następnie głos zabrali zaproszeni goście. Wójt gminy Ostrów Wielkopolski – Piotr Kuroszczyk przedstawił realizację oraz koszty inwestycji Szkoły Podstawowej w Szczurach, która przeszła gruntowną termomodernizację. Włodarze gminy, nauczyciele, uczniowie i rodzice cieszą się z przeprowadzonych prac. Zabytkowy pałac Józefa Lipskiego, w którym mieści się szkoła, pięknie prezentuje się w otoczeniu parkowych drzew. Na zakończenie uroczystości były życzenia, słowa zachwytu i uznania, kwiaty oraz prezenty. Zaproszeni goście zwiedzili szkołę, absolwenci z sentymentem wspominali chwile spędzone w tym budynku. Jubileusz zakończył się wpisami do księgi pamiątkowej i wspólnym poczęstunkiem.
Najnowsze od iGOinfo
Powrót na górę