Strażacy z OSP Czekanów wzbogacili się o nowy wóz strażacki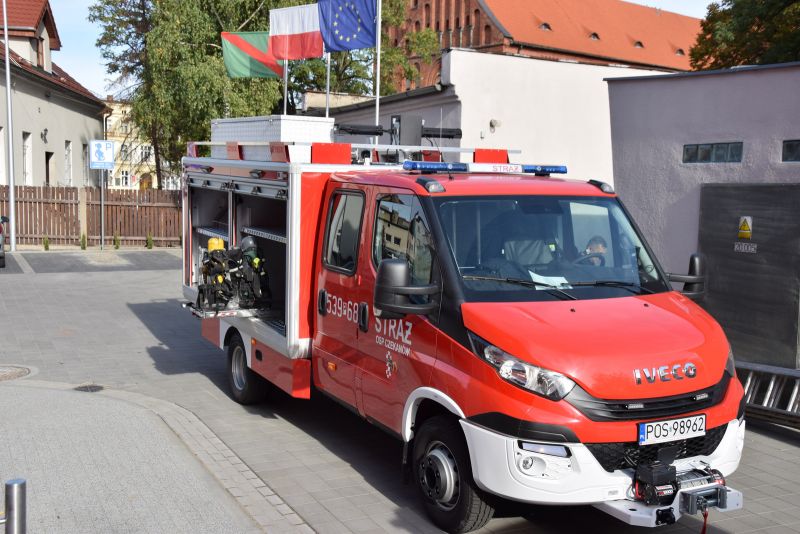 To lekki samochód ratowniczo – gaśniczy marki IVECO model Daily 70C18. Auto kosztowało prawie pół miliona złotych. Zakup był możliwy dzięki dofinansowaniu z Urzędu Marszałkowskiego w Poznaniu, które przekazało 400 tysięcy złotych, kolejnych 100 tysięcy złotych pochodziło z budżetu gminy.
- Jednostka jest wpisana do Krajowego Systemu Ratowniczo – Gaśniczego, dlatego decyzja o zakupie nowego samochodu była zasadna – podkreśla wójt gminy Piotr Kuroszczyk. Druhowie bardzo często wyjeżdżają na akcje. W ubiegłym roku byli na 53 wyjazdach, w tym roku uczestniczyli już w 61 różnego rodzaju zdarzeniach. Nowy samochód zapewne jeszcze bardziej usprawni niesienie pomocy poszkodowanym. – dodaje wójt.
Samochód jest 6-osobowy. Wyposażony m.in.: w zbiornik na wodę o pojemności tysiąca litrów, dodatkowych 100 litrów ma zbiornik na środek pianotwórczy. Wydajność autopompy to 1600 litrów na minutę. Auto wyposażone jest w szybkie natarcie i prądownice do podawania piany średniej. Dodatkowo posiada ledowy maszt oświetleniowy oraz zewnętrzne oświetlenie pola pracy strażaków. Iveco wyposażony jest także w wyciągarkę, 5 przenośnych radiostacji, cała zabudowa samochodu jest typu kontener.
- Do jednostki trafił bardzo dobrej klasy samochód strażacki. Spełnia wszelkie wymogi samochodu ratownictwa technicznego. Warto dodać, że strażacy podczas odbioru samochodu od producenta otrzymali po 5 par butów marki Skuter, hełmy oraz kominiarki – podsumowuje Wiesław Janoś, komendant Zarządu Oddz. Gminnego ZOSP RP.
Najnowsze od iGOinfo
Powrót na górę