Pierwsze urodziny Dobrego Początku!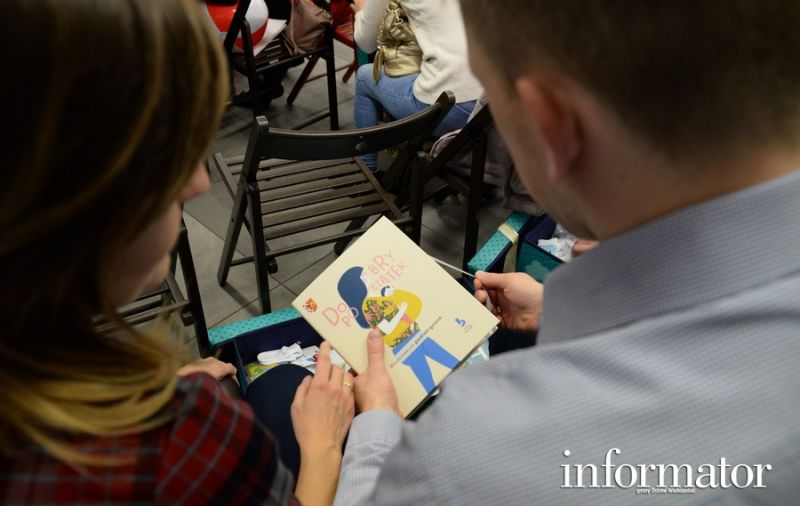 Mija rok od pierwszej gali innowacyjnego programu gminy Ostrów Wlkp. "Dobry Początek". Program skierowany dla kobiet w ciąży łączy w sobie zarówno kompendium wiedzy jak i pomoc rzeczową. To pierwsze tego typu rozwiązanie w Polsce!
Pierwsza gala miała miejsce w Gminnym Ośrodku Kultury w Wysocku Wielkim. To właśnie tam, 18 października 2018r., 23 młode mamy, mieszkanki gminy Ostrów Wlkp. odebrały specjalnie dla nich przygotowane pakiety.
"Kiedy zastanawialiśmy się, jak najlepiej pomóc młodym mamom, kobietom w ciąży, myśleliśmy początkowo o przekazaniu konkretnej kwoty pieniędzy, ale postanowiliśmy sprawdzić, czego naprawdę, najbardziej potrzebują. Przeprowadziliśmy konkretne badania, z których okazało się, że młode matki potrzebują przede wszystkim rzetelnej wiedzy, wsparcia, kosmetyków, ubrań. To właśnie zostało zawarte w naszym gminnym programie, który spotkał się z bardzo dużym oddźwiękiem – mówi wójt gminy Piotr Kuroszczyk.
Kolorowe pudła kryją w sobie rzetelne materiały edukacyjne dotyczące profilaktyki ciąży oraz wademecum pediatryczne. Obie propozycje zostały przygotowane przez lekarzy specjalistów, w tym popularną ze swojego blogu Nicole Sochacki - Wójcicka, znaną jako Mama Ginekolog. W pudłach znajduje się także 50 różnego rodzaju elementów takich jak: ubranka dla noworodka, jednorazowe pieluszki, najwyższej jakości kosmetyki dla mamy i maluszka, butelkę do mleka, kocyk, różnego rodzaju niezbędne akcesoria m.in. do czyszczenia noska, mierzenia temperatury wody, czyszczenia dziąseł oraz wiele innych niezbędnych rzeczy potrzebnych szczególnie w pierwszych tygodniach i miesiącach życia dziecka.
Wdrożenie programu "Dobry Początek" poprzedzone było blisko rocznymi pracami projektowymi. Autorką projektu jest Marta Kuroszczyk.
"Celem projektu było stworzenie nowej usługi publicznej dedykowanej kobietom w ciąży. Aby to mogło nastąpić, wykonałam badania, podczas których rozpoznałam potrzeby i problemy przyszłych mam. Następnie rozpoczęły się prace nad rozwiązaniami. W trakcie serii warsztatów współtworzenia wartości z przyszłymi i obecnymi mamami i tatusiami oraz pracownikami gminy i radnymi powstały kolejne elementy usługi i docelowe świadczenie. W trakcie trwania projektu szukaliśmy odpowiedzi na problemy związane z dostępem do rzetelnej wiedzy, prawami kobiet w ciąży w przestrzeni publicznej oraz ich pragnieniem odpowiedniego przygotowania się na przyjście na świat dziecka. Uważam, że program "Dobry Początek" może być również wzorowym programem dla innych gmin w Polsce." - mówi Marta Kuroszczyk, inicjatorka i główny koordynator programu.
W ciągu roku kolorowe paczki otrzymało 257 kobiety w ciąży, bądź świeżo "upieczonych" mam. Projekt cieszy się dużym zainteresowaniem ze strony rodziców.
"Bardzo się cieszymy, że powstał taki program w naszej gminie. Jako młodzi rodzice sami do końca nie wiemy co tak naprawdę będzie potrzebne dla maluszka. Zawartość paczki z pewnością przyda się w pierwszych tygodniach życia maleństwa. Dobrze, że znalazły się także kwestie związane z opieką i pielęgnacją niemowląt." – mówi przyszła mama.
Wyjątkowa gala, podczas której świętowano rocznicę działania programu "Dobry Początek" odbyła się we wtorek, 29 października w Gminnej Bibliotece Publicznej w Gorzycach Wielkich. Specjalnie dla gości, muzycznie wystąpiły Izabela Staroń oraz Iga Kasprzak. Po krótkim muzycznym przywitaniu, życzenia złożyli zastępca wójta gminy Ostrów Wlkp. Antoni Hadryś, przewodniczący Rady Gminy Piotr Śniegowski oraz inicjatorka i główny koordynator programu Marta Kuroszczyk, bez której ten program by nie powstał. Rok działalności to także doskonała okazja aby podziękować tym wszystkim, którzy zaangażowani są w prace nad projektem. Specjalne podziękowania popłynęły do zespołu pracowników z gminy : Marleny Kruszyk, Sylwii Talagi, Mateusza Kołeczko oraz Mateusza Krawczyka.
Podczas wtorkowego spotkania, kolorowe pudła po brzegi wypchane akcesoriami, z rąk zastępcy wójta Antoniego Hadrysia oraz przewodniczącego Rady Gminy Piotra Śniegowskiego odebrało 21 kobiet. Kiedy już wszystkie zestawy trafiły do przyszłym mam, nadszedł moment kiedy wspólnie wszyscy otwierają pięknie zapakowane pakiety. Nie brakuje wówczas pozytywnych emocji i radości.
Po części oficjalnej, na wszystkich gości jak zawsze czekała przyjemna chwila. Pyszny tort, kawa i doborowe towarzystwo.
Ostatnio zmienianyśroda, 30 październik 2019 10:17
Najnowsze od iGOinfo
Powrót na górę