W Topoli Małej ruszyła budowa nowego przedszkola.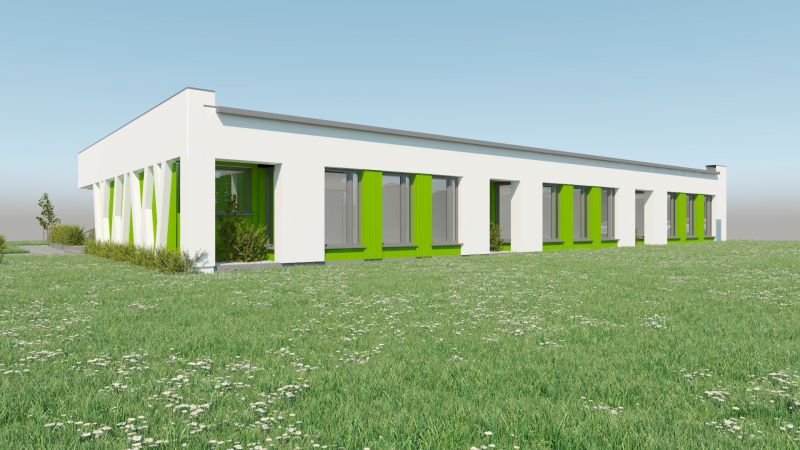 Nowoczesny obiekt powstaje tuż obok Zespołu Szkolno –Przedszkolnego. Prace ruszyły wraz z początkiem października.
W ciągu kilku najbliższych dni gotowe będą fundamenty. Nowe przedszkole kosztować będzie ponad 2,5 mln złotych. Pieniądze w całości pochodzą z budżetu gminy. W sumie budynek liczyć będzie ok. 800 metrów kw. Będzie jednokondygnacyjny, niepodpiwniczony, z płaskim dachem. Między częścią szkolną i przedszkolną zostanie wybudowany specjalny łącznik. Przedszkole będzie 3-oddziałowe, w sumie dla 75 dzieci.
Przy każdej sali będzie toaleta z prysznicem, szatnią, podręcznym magazynem. W budynku będzie wiatrołap, toaleta dla niepełnosprawnych, wózkownia, kotłownia, zaplecze magazynowe, archiwum, pomieszczenia gospodarcze oraz zaplecze kuchenne. Z myślą o ochronie środowiska zamontowana zostanie kotłownia gazowa. W ramach inwestycji utwardzony zostanie teren wokół budynku. Wykonana zostanie także niezbędna infrastruktura. Wejście główne do przedszkola wraz z parkingiem powstanie od strony południowej. Budowa ma zakończyć się do końca lipca przyszłego roku. Budowie kibicuje wójt gminy Piotr Kuroszczyk, dla którego inwestycje oświatowe są niezwykle ważne.
- Rozpoczynamy budowę kolejnego, nowego przedszkola. Dla najmłodszych mieszkańców Topoli Małej oraz ich rodziców będzie to jedna z najważniejszych inwestycji w tej miejscowości. Mam nadzieję, że sprostamy oczekiwaniom. Zależy nam by dzieci bawiły sie i uczyły w godnych warunkach. Budowa przedszkola w Topoli Małej została wymuszono przez reformę oświaty. Do szkół wróciły VII i VIII klasy, zaczęło brakować sal lekcyjnych w szkołach. Taką sytuację mamy m.in.: w Topoli Małej. Musieliśmy więc podjąć decyzję albo o rozbudowie szkoły albo o budowie nowego przedszkola. Łatwiejsze i prostsze do wykonania wydawało nam się to drugie rozwiązanie – mówi wójt gminy Piotr Kuroszczyk. Teraz przedszkole mieści się w budynku szkoły. Dzieci do swojej dyspozycji mają trzy niewielkie sale i jedną wspólną toaletę. Budowa nowego przedszkola poprawi warunki nie tylko lokalowe, przede wszystkim polepszy się komfort do nauki i zabawy. Najmłodsi zyskają nowoczesne, przestronne i jasne sale zabaw z odpowiednim zapleczem. Szkoła natomiast po przeprowadzce przedszkola zyska dwie dodatkowe sale lekcyjne i jedną salę na zajęcia indywidualne.
Dziś w przedszkolu w Topoli Małej uczy się 67 dzieci w wieku od 2,5 do 6 lat.
Przypomnijmy.
Będzie to kolejne nowe przedszkole w gminie Ostrów Wielkopolski. W 2016 roku oddano nowo wybudowane przedszkole w Gorzycach Wielkich, w ubiegłym roku rozbudowano i wyremontowano przedszkole w Daniszynie, w Słaborowicach rozbudowano szkołę, dzięki czemu nowe pomieszczenia wraz z toaletami zyskały sale przedszkolne. We wrześniu tego roku oddano nowe przedszkole we Wtórku. Rozbudowano także szkołę w Łąkocinach. Na bieżąco trwają także remonty w szkołach. Do najważniejszych należą: zakończona termomodernizacja placówek wraz z wymianą ogrzewania na ekologiczne w Lamkach oraz Szczurach. Niebawem ruszy rozbudowa szkoły w Wysocku Wielkim. Planowana jest także termomodernizacja szkoły podstawowej we Wtórku.
Najnowsze od iGOinfo
Powrót na górę