Wiśniowy Zakątek w Karskach jeszcze piękniejszy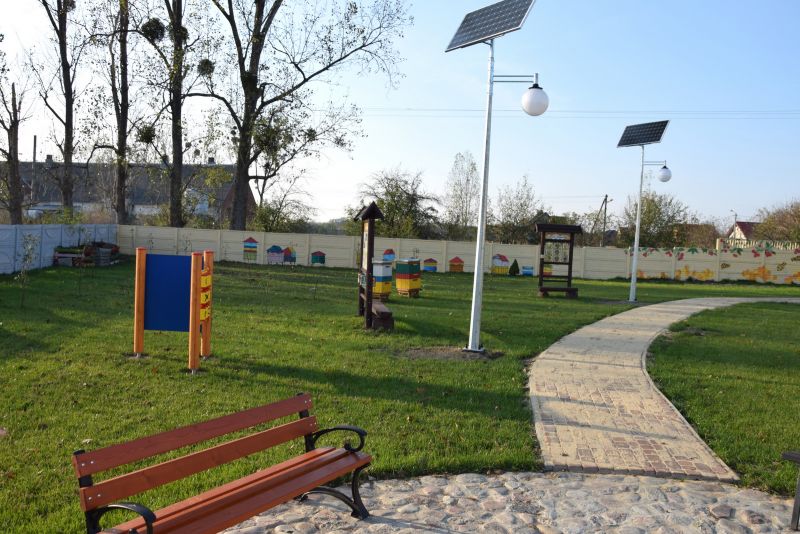 W ciągu trzech miesięcy plac za świetlicą wiejską wzbogacił się o dodatkową małą architekturę. Zamontowano 3 lampy solarne, które oświetlają teraz plac wieczorową porą.
Pojawił się betonowy stół do gry w tenisa oraz grę logiczną kółko i krzyżyk z tablicą do rysowania, powstały alejki z kostki brukowej, które prowadzą do poszczególnych stref wypoczynkowo- rekreacyjnych. Pojawiła się dodatkowa zieleń pnąca, nasadzona w ramach prac społecznych. Mieszkańcy odmalowali nieestetyczną boczną ścianę świetlicy wiejskiej od strony siłowni. Przy palenisku pojawiły się dodatkowe ławki. Ze środków funduszu sołeckiego zakupiono namiot i dodatkowe ławki do organizacji imprez plenerowych. Prace były możliwe dzięki otrzymaniu dofinansowania z Urzędu Marszałkowskiego w Poznaniu. Miejscowość zwyciężyła w IX edycji konkursu "Pięknieje Wielkopolska Wieś". Projekt został tak dobrze przygotowany, że sołectwu przyznano maksymalne dofinansowanie, 30 tysięcy złotych. W sumie wartość projektu oszacowano na prawie 60 tysięcy złotych. Połowa tej kwoty to dofinansowanie w ramach konkursu. Z budżetu gminy na realizację przeznaczono 18 tys. złotych., kolejnych 6600 złotych pochodzić będzie z funduszu sołeckiego Karsek, pracę społeczną wyceniono na ponad 9 tys. zł. Umowę na dofinansowanie projektu podpisano na początku lipca. Inwestycja zgodnie z dokumentem miała zakończyć się do końca października tego roku.
- Wspólnie z mieszkańcami oraz ludźmi dobrej woli wykonaliśmy w czynie społecznym kawał dobrej roboty. Bez zaangażowania, cierpliwości i ogromnej chęci pomocy, nie byłoby takiego efektu. Jestem ogromnie wdzięczna wszystkim, którzy przez wiele dni przychodzili do Wiśniowego Zakątka i z uśmiechem na twarzy pracowali, by to miejsce było jeszcze piękniejsze. Pracy było dużo, a zadanie nie łatwe do wykonania. Dziękuję. Jestem ogromnie dumna z mieszkańców Karsek. – podsumowuje Monika Orzechowska, radna Gminy Ostrów Wielkopolski oraz lider Grupy Odnowy Wsi w Karskach.
Mieszkańcy w ramach prac społecznych wykonali m.in.: korytowanie terenu pod chodnik, ułożenie kostki, malowanie elewacji, oświetlenie wiaty grillowej, sadzenie ozdobnego bluszczu, wykaszanie i porządkowanie placu.
Karski już po raz drugi otrzymały wsparcie finansowe w ramach tego samego konkursu marszałkowskiego. Dokładnie rok temu dzięki dotacji oficjalnie otwarto nowo powstały plac Wiśniowy Zakątek - Centrum Rekreacji i Wypoczynku. To nietuzinkowe miejsce łączy w sobie wiele funkcji: zabawę, naukę, rekreację, wypoczynek i integrację. W tym roku dzięki dotacji z Urzędu Marszałkowskiego zmodernizowano także plac zabaw w Kwiatkowie. Sołectwo również otrzymało maksymalne wsparcie finansowe z konkursu "Pięknieje Wielkopolska Wieś".
Najnowsze od iGOinfo
Powrót na górę